Home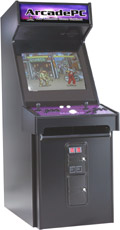 Visitors: 53155

There's nothing like standing in front of a full sized arcade cabinet and playing with some friends or strangers. A keyboard, gamepad, or joystick just doesn't do it justice. To capture the true experience in your house, you'll need an actual arcade cabinet. You've got 3 choices:
You can buy a new arcade cabinet.
You can buy a used cabinet and fix it up.
You can build your own cabinet.
For years, I've always wanted an arcade machine, and when I saw someone build a cabinet like this, I was hooked. Recently, God has blessed my wife and I with our first house. We both love to entertain guests, however most of our friends have children of all different ages. I was not thrilled with the idea of letting them wander around the house looking for something to do, while the adults fellowshipped together. My wife and I prayed about it, and came to the conclusion that it was certainly a good investment to buy an arcade cabinet. We planned to make our bonus room into a craft area for my wife, and games for the kids. But don't get me wrong, I definitely play games more than the kids do!
Seeing how we just moved into our first house, I had no time and tools to build a cabinet. So I started looking for a new one to buy. I came across the ArcadePC from HanaHo Games, Inc. At HanaHo, you can buy a brand new arcade cabinet. All you need to do, is to stick a computer in it, and you are ready to roll! It comes fully equipped a 21" monitor, nice sound system (including a sub woofer), working coin door, and a joystick control panel (modified version of the HotRod SE), and trackball. As many of you know, the majority of the arcade machines use Happ Controls (joysticks, buttons, coin doors, etc..), and the HotRod uses Happ products. The controls are tough, and play perfectly! No worries about kids breaking them.
I bought the machine, had it shipped, and built a PC for it, all for about $4,000. The machine was built and in my house in about 3 weeks. They are also willing to customize it for you. For example, I wanted red, white, and blue buttons to resemble my favorite arcade game, Street Fighter II Championship Edition. I also bought an Oscar spinner and shipped it to HanaHo to have them mount it. Additionally, I sent my force feedback steering wheel to them so it could be mounted. You can unlatch 2 latches and the joystick control panel can be lifted off. Then put in the steering wheel control panel, lay the pedals on the floor, and you are ready to race.
More to come later (page under construction)....